PROGRAMME DAY 2 - 31 MAY
Here you find the programme of day 2 of EPIC. Day 2 of EPIC is EdTech Tuesday, which means Tuesday 31 May will be all about EdTech. For more information on the subsessions and keynotes, please scroll down.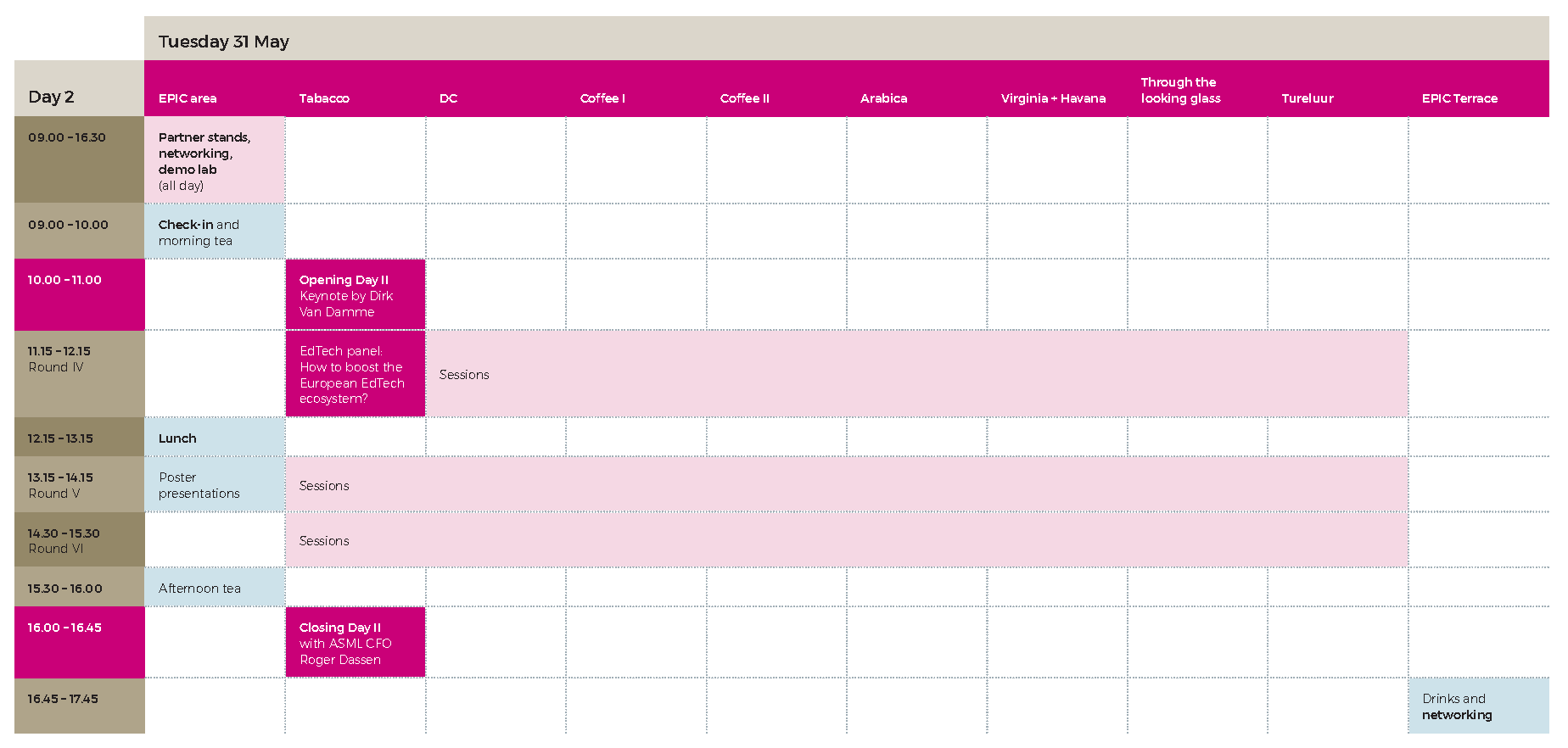 ---
Sessions Round IV
11.15 - 12.15
Location
Time (min) 
Presenter(s)           
Session

Tobacco

Livestream

60
Emmelie Zipson, Jelle Kok
 

EdTech panel: How to boost the European EdTech ecosystem?

 

Panel discussion | Mia De Wilde (Thomas More), Bart Corbijn (Drieam), Christien Bok (SURF) and Farshida Zafar (ErasmusX) discuss the what, why and how of boosting the European EdTech ecosystem, and they come up with several practical steps to take to move forward.

DC

Livestream

20
Sara Theuwen, Annabel Wanzeele

Bottom-up creating a supported and strategic vision of Lifelong Learning.

Presentation | Do you want to create a supported vision and policy regarding lifelong learning within your institution? In this session, Sara and Annabel present a dynamic approach where cases from the various study programmes are inspirational to develop a strategic vision of lifelong learning. Creating a widely supported training and educational concept from the bottom up really works!

 
20
Frans Ward

Edubadges: a national approach to enable flexibilization in education.

Presentation | Edubadges: a national approach to enable flexibilization in education. SURF is offering an infrastructure that allows Dutch educational institutions to issue edubadges: digital credentials for both curricular and extracurricular activities. The need to make knowledge and skills transparent, support Life Long Learning and facilitate a process that makes higher education more flexible (micro-credentialing), were the major drives to develop edubadges for and with higher education in the Netherlands. This session will explain the ratio behind this project and will highlight the key features of Edubadges.

 
20
Jelmer de Ronde

An infrastructure to support student mobility

Presentation | Taking courses at other institutions has been possible for a long time. But for both students and educational institutions, this involves a lot of extra work. SURF built an infrastructure that allows students to easily register for courses at other institutions, without the obstacles that students and administrations often experience at present. In this presentation, Jelmer explains the 5 components of this infrastructure and what the infrastructure we have built looks like.

Coffee I

Livestream

60
Dan Hasan (FeedbackFruits) & Anna de Waard-Leung (Rotterdam School of Management)

Programmatic Assessment, learn why & how this technology is being developed

Partner presentation | The concept of programmatic assessment in education is not new but the sector was not completely ready to adopt it until now. Covid has forced digitalisation and paved the way for portfolio and programmatic assessment to be developed to use at scale. Learn from Anna de Waard-Leung from RSM how they are co-developing these technologies together with FeedbackFruit.

Coffee II
30
Timothy Steleman (Academic Software)

Demystifying the cloud

Partner presentation | Unlimited power at your disposal, on-demand scaling of resources, worry-free resource management, the virtues of the cloud are definitely true, but they come with caution. The effort to manage cloud resources and their associated cost is not to be underestimated. During this session we share some use cases and best practices for sustainable cloud adoption in education.

 
30
Will follow soon

Partner session: Huawei

Arabica
30
Tamara van Schilt-Mol, Jan Berends & Liesbeth Baartman

Programmatic assessment learning module

Workshop | More and more study programs want to introduce programmatic assessment. But how do you do that? In this session, we will present our online learning module for programmatic assessment. You will be guided through a hands-on experience of the learning module. At the end of the session, you will have a thorough understanding of the concepts, and know what it takes to implement such a program.

 
30
Silvester Draaijer & Marga Korporaal

Sustainable building of test questions with item banks

Facilitated discussion | A test item bank offers a sustainable resource for offering students high quality formative and summative assessment possibilities. But how do you develop such an item bank? In particular at an institutional level. Silvester explains what you need to consider when setting up and managing an item bank. Marga will share her experiences on how to organize collaboration on item banks within the university.

Virginia + Havana
30
Will follow soon

Partner session: TheFactor.e

 
30
Barend Last & Ellen Bastiaens

Bridging the gap: Sustainably embedding lessons learned from a lockdown

Presentation | Maastricht University has a long history of innovation and commitment to quality improvement of its education. The many lessons learned from emergency remote teaching and learning and more blended forms of education during COVID-19 have led to many teaching staff curious to explore how they can sustainably keep using what worked well. To achieve this, the university created the Technology-Enhanced Education programme, in which many of the lessons learned from the lockdown education have been translated into goals and aims with specific action lines and projects. In this session, Barned and Ellen present their approach and touch upon what works and what doesn't, as well as what are opportunities and barriers. Furthermore, you will do several short assignments to transfer insight to your context.

Through the looking glass
60
Steven Losekoot (Vorsen)

The foundation for flexible education: Curriculum management

Workshop | In the last years we've come across several 'best practices' that all share the wish for more flexible education. The starting point and approach differ per institution, but they share the understanding that it starts with good curriculum management. In this presentation we show and discuss the different types of flexibilisation we've come across. So, we take it from theory into practice.

Tureluur
20
Nathalie Muffels & Astrid van Weyenberg

Activating Podcasts in Education: Independent Learning with Digital Tools

Presentation | How do you use podcasts in education? During this presentation, you learn about the Activating Podcast Method (APM) that Nathalie and Astrid developed and how they used this method to create an integrated learning experience within a first-year Literary Studies course. You get informed about how they made the podcasts, integrated them into a learning environment and what the technical requirements are.

 
20
Peter Groothengel

Learning Analytics within the University of Twente, first practical steps

Presentation | Get informed about how the University of Twente started with Learning Analytics in a Proof of Concept, and how it uses LRS in education. You also hear how dashboards are used in education and how the GDPR is covered. A starting point for an educational talk between students and teachers.

 
20
Erwin van Vliet

Personalized feedback to students and teachers using IguideME

Presentation | How to apply learning analytics in practice? Get insight into learning analytics and teaching dashboards and learn about how learning analytics and teaching dashboards can improve the quality of teaching. In this session, you get to know 'IguideME', via which learning data can be continuously collected and visualized. This allows personalized feedback to be given to students, even in large-scale courses.
---
Sessions Round V
13.15 - 14.15
Location
Time (min) 
Presenter(s)           
Session
EPIC Area
60

Poster presentations

Innovative engineering labs: virtual, remote, hybrid and virtual reality
Suzanne Groothuijsen

An integrated blended module of Academic Writing in a graduation course
Atefeh Aghaee

How Erasmus University Rotterdam boosts online education
Linda de Bont

CLI fellowships: Driving innovation with educational research
Marloes Nederhand

No escaping logic: teaching critical thinking online
Arie van der Lugt

Towards digital accessible course material
Gaby Lutgens

Blending support to accelerate the use and effect of blended learning
Ulrike Stam

Simulation enhanced learning in cardiorespiratory physiotherapy education
Holly Royle

Sustainability strategies for OER, sharing is caring!
Robert Schuwer & Leontien van Rossum

Flexibilisation: what does the student want?
Erik Bolhuis

Defining factors contributing to successful implementation of evidence-informed practice within 11 Dutch higher educational institutes
Vera de Vries & Bea Edlinger

What have we learned from Covid Teaching?
Naomi Wahls

Tobacco

Livestream

30
Christien Bok

We only are our values, so let's start fighting for them

Presentation | Technology is not neutral. The awareness about how technology affects values and how values affect technology is growing, also in education. Over the past years, SURF has cooperated with its members to come to more specific and practical manners in regaining sovereignty and protecting public values. Christien will illustrate this by providing examples of the activities and deliverables that we have formulated.

 

 
30
Duuk Baten

Are we still doing the right thing? Using public values in decision-making

Facilitated discussion | We all feel the rising tensions around the use of digital technologies. At home, on the streets, and in the classroom. Are you still doing the right thing? In this session, we will open the floor for conversation and discussion about value-based decision-making. A combination of critical self-reflection, some practical tools (such as the Value Compass), and an engaging (panel)discussion will guide us through the challenging dilemmas of the digital transformation of education.

 

DC

Livestream

7
Nienke Stumpel

An escape room to train and inspire teachers

Mini presentation | Want to use your LMS in a different way? Ever tried creating an escape room, with the tools you already have on hand? Hide passwords in quiz feedback, use release conditions to create different 'rooms', and make a pub quiz with the video tools which are embedded in your LMS.

 
7
Oliver Janoschka & Lavinia Ionica

Digital assessments: lessons from Germany, Austria and Switzerland

Mini presentation | Digital assessments in higher education pose a number of challenges for HEIs who wish to get away from traditional presence exams. In this session, we will discuss the various types of digital assessments that are possible, what benefits and challenges are associated with these, and which findings from Germany/Austria/Switzerland, if any, can be transferred to other countries. Participants will gain knowledge as well as inspiration.

 
7
Anna Kola

Student-run YUFE Helpdesks as a New Form of Education and Engagement

Mini presentation | The aim of the presentation is to introduce the method - student-run helpdesks - as not only a social and local engagement activity but also as an innovative educational form that can be applied in different contexts.

 
7
Wiebe Dijkstra

HE in motion: How we took blended learning at TU Delft to the next level

Mini presentation | In this mini-presentation, you'll be taken on a journey looking at educational improvement from different perspectives. We will answer the question on how TU Delft took blended learning to the next step. It's a journey about building relationships, dealing with conflicting interests, starting a new job in a worldwide pandemic, and in the end trying to make education better for all students.

 
7
Louise Stanley

High fidelity simulation to replace clinical placement in physio students

Mini presentation | Presentation to demonstrate the value of high fidelity simulation as a means of replicating and replacing clinical placement in undergraduate healthcare students, reducing the burden of clinical placement capacity and enhancing the learning environment through the use of technology to replicate a responsive clinical scenario.

Coffee I

Livestream

60
John Walker & Jelle Kok (Acceleration Plan)

How to turn your teachers' ideas into a real EdTech experiment

Presentation | How do you go from a teacher's wish for a new tool to the real use of a new tool? We will answer this question in two ways: a report on the state of implementation and experimentation processes used in Dutch Higher Ed institutions and we will introduce an innovation processes maturity model. With this, we will provide handles for teachers, (information) managers, procurement and contracting, and many other people who are (trying to) experiment with new tools. 

Coffee II
60
Joanne Heidinga

Design Your Blended Wave: the Game

Open Format | In the game you design a blended learning journey with the teaching method cards. Each team gets a stack of cards, which they use to create the learning journey. They can exchange or even 'buy' new cards from other teams and the game facilitator. Each team earns points by making the best match between learning outcome, teaching method and learning environment. The team with the most points wins!"

Arabica
30
Ewoud de Kok & Cees Plug

Rethinking a collaborative trust framework in EdTech: how to move forward

Open Format | The presenters discuss why a Collaborative Trust Framework is important, and how it can be used to stimulate innovation.

 
30
Janna Admiraal & Lourens van Herk (HowSpace)

STOP TALKING!

Presentation | The organizations that will thrive are those that align people around a common purpose and provide clarity on how individual efforts contribute. The new era of learning demands a new model of teaching that values collaboration and inclusion at every level. In today's purpose-led, hybrid-learning world, it is vital to collaborate at scale and leverage collective brainpower.

Virginia + Havana
60
Martine Teirlinck & Markus Deimann

Comparing lessons from a German and Dutch approach on (O)ER

Open Format | Lecturers and communities in knowledge institutions produce a wide range of digital (open) educational resources. How do you provide them with a platform to share and (re)use their resources with as few thresholds as possible? A German and Dutch perspective.

Through the looking glass
60
Calvin Rans

Student Flight Data Recorder: Building a culture of learning from mistakes

Facilitated discussion | How can we get students to perform meaningful self-reflection without triggering their student minds to simply reflect back on what they think the teacher wants to see? In this session, we will examine an innovative project, known as the Student Flight Data Recorder, to attempt just this. This project took the concept of a reflection journal and turned it into a symbol synonymous with learning from failure – the aircraft Flight Data Recorder. But more than a symbol, this project also includes a story, a struggle, and an intervention for all of the students.

Tureluur
15
Maurice Magnee & Astrid Timman-Jacobse

Teaching communication skills using a VR based training platform.

Presentation | We will present the results of two VR simulations, namely 'Motivational Interviewing' (MI) and 'General conversation skills'. We will elaborate on our findings showing the added value of these VR simulations in developing communication skills in higher education.

 
15
Stan van Ginkel

Fostering students' presentation skills by making use of Virtual Reality

Presentation | This session presents one of the most recent academic studies in this field on VR, feedback and presentation skills, discusses the main principles for integrating VR in skills education and facilitates a demonstration of the VR tool that is widely adopted in education and received a nomination for the 'ICT and Education Prize' by the UNESCO.

 
15
Harry Bitter & Koos van der Kolk

Faculty-based design of Virtual Laboratory applications for Large-Scale Use

Presentation | Rijksuniversiteit Groningen and Wageningen University have designed, developed and evaluated a three-dimensional Virtual Reality application (3D VR app). The application helps students to prepare themselves for constructing glassware set-ups in a fume hood in an organic chemistry lab. We will give a short demonstration of the application.

 
15
Nils Schlatter

Innovative VR technology in teaching mining engineering students

Presentation | An innovative VR-based teaching concept will be presented, which will be further developed within the MyScore project ("Mobility System Cooperation in Higher Education"). This teaching concept includes an underground virtual mine through which the university education of mining engineering students is enriched.
---
Sessions Round VI
14.30 - 15.30
Location
Time (min) 
Presenter(s)           
Session

Tobacco

Livestream

30
Loulou Detienne & Bas Van der Brugge

Development of a testing ground for multilocation learning

Facilitated discussion | More and more institutions of higher education are investing in technology-enhanced learning. An example of such a technology-enhanced learning environment that offers the opportunity for flexible and multi-campus learning by connecting remote groups with the traditional face-to-face classrooms, is multilocation learning. At VIVES university college of applied sciences we established a testing ground in which we want to focus on the following aspects:

(1) determining the educational framework for multilocation learning;

(2) choosing and installing the necessary infrastructure, hardware and software;

(3) developing educational and technological professionalization for teachers;

(4) mapping the impact of multilocation learning on the educational organization."

 
30
Veronique Eurlings & Safira Nur Allya Ramadhanty

YUFE Open programmes: inclusive, personalized learning across Europe

Presentation | Are you interested in learning more about the educational developments within one of the first European University Alliances? YUFE, led by Maastricht University, has been testing its YUFE Student Journey since 2020 and will happily share best practices and first activities. Join our session and learn more about 'Building and testing the first YUFE Open Programmes: inclusive, personalized learning paths across Europe'

DC

Livestream

30
Aranka Bijl & Romy Noordhof

Game-based assessment of information literacy: developing a prototype

Presentation | Ensuring the validity and reliability of test score inferences is key in maintaining the value of a certificate. In high-stakes certification testing, candidates are often required to demonstrate their competencies by working on a construct-relevant task. However, validity threats (e.g., authenticity) are associated with traditional performance assessments. This may lead to errors in qualification decisions. Therefore, this research focused on the potential of digital game-based performance assessments to mediate these validity threats. This session centers around the steps in developing a prototype of a serious game designed for the assessment of information literacy in special investigation officers. In their vocation, special investigation officers should be able to evaluate different information items and organize and combine these into a surveillance plan for their shift.

Designing a prototype of a serious game for the assessment of information literacy is a first step in the implementation of game-based performance assessment. Future steps include further development, validation of the prototype, and studying the generalisability of this prototype to other domains.

 
30
Hans Hummel

Instructional design of active online learning through serious games

Presentation | The presentation is comprised of three parts: 1. Serious gaming as a solution for more motivating and active and experiential online education; 2. Design guidelines (models) and the importance of qualitative instructional design; 3. Worked examples (and evidence-base) of serious games.

Coffee I

Livestream

30

Frederiek van Rij &
Martijn Blikmans

Library meets didactics: Collaboration on OE teacher training

Presentation | The subject of open educational resources (OER) is becoming more prominent in higher education. Effective use and implementation of OER, fundamental for engaging in open education (OE), requires new skill sets outlined in the 2016 UNESCO competency framework. Furthermore, the pedagogical component is an equally important part of this mix that helps ensure the move beyond the basics of OER towards new learning models and unleash the potential of OER in innovative teaching strategies, co-creation and learning environments.
In this session, we argue that in order for teachers to be trained effectively in the skills necessary to effectively implement OER and engage in OE, collaboration between information literacy services and didactic experts is needed. Such collaboration should come as a natural first step in setting up well-functioning OE support services and infrastructure at higher education institutions.

 
30
Nicolas Mangin

Feedback loops for the continuous improvement of open learning materials

Presentation | Every year we spend days preparing teaching materials, designing tests, and grading. We analyze the quality of our questions, take notes on students' difficulties in examinations and feedback in course evaluations, and address these in the next iteration of the course. Over time, these days add into weeks, which add into entire lives. And what happens to this massive and painstaking work? Either it is lost when teachers leave the University, or we put it into boxes we store and forget in archives where they silently wait for their destruction. We are not fully leveraging the massive amount of valuable information contained in the results of any single test, and there is no systematic and sustainable accumulation of shareable knowledge.

To address this issue, I developed and wish to present an open-source application I designed to integrate and partially automate teaching and learning processes: design and publication of open teaching materials (textbooks, slides, scripts of videos, question banks), generation of tests, grading of open-ended questions, individual feedbacks to students, collection of detailed feedback from students, and production of statistical reports for teachers.

Coffee II
60
Oliver Janoschka & Lavinia Ionica

Teach and learn: develop your institution through learning networks


 

Workshop | In this workshop, representatives from Hochschulforum Digitalisierung will both present their own train-the-trainer program and report on initial experiences. In an exchange with the participants, they will discuss professional development approaches at HEIs in Europe. Good practice examples are to be collected and networks formed in order to support a transfer process within European universities."

Arabica
60
Lex freund &
Bram Enning (Acceleration Plan)

Can learning analytics be an instrument for monitoring student engagement?


 

Facilitated discussion | Student engagement is a key ingredient in successful education. Can learning analytics help monitor student engagement? This question is discussed on the basis of three theorems with input from your own experience and opinion. Active participation in the discussion is requested.

Virginia + Havana
30

Pieter J. Smits & Lotte Oude Weernink (Drieam)

Bernolf Kramer & Jeroen Tops (Fontys)

Propel student ownership in the digital learning environment: Portfolio

Open format | A co-creation between Fontys and Drieam: how to put the student in the driver's seat in a traditionally teacher-led digital learning environment. The case of the development of a student-led development and assessment portfolio steered by a strong and modern vision in higher education. An open discussion on the challenges and solutions that the digital transformation aimed at promoting student-led learning entails as well as a demo of the resulting product.

 
30
Sidhart Oberoi & Amara Ahmed (Canvas)

Partner session: Canvas

Through the looking glass
60
Kasper Baars and Thomas Smulders

Session of the regional development agency (RDA) ROM Utrecht Region: 7 innovative ways to improve student results

Presentation | After Kasper and Thomas give a brief introduction about the topic, seven short pitches with examples will follow:

1.    Julien Jukema (Anywise)
2.    Elisabeth Schmoutziger (Grasple)
3.    Jeroen Krouwels (Hihaho)
4.    Clariël Veldhuizen (Dimlab)
5.    Marco Houthuijzen (Dialogue Trainer)
6.    Gioia Lelli (Master Challenge)
7.    Karim Akhlal (Recrout.com)

Tureluur
20
Sharon Klinkenberg & Annette Peet (Acceleration Plan)

Building a future for assessment as learning

Workshop | How to realize a future in which assessment truly drives learning. By motivating students and encouraging deep level learning? The working group remote assessment shares future scenarios for digital assessment in higher education. The scenarios were developed by consulting prominent authorities in the field of assessment. In this session, we will explain the different scenarios, and we will discuss with the attendees the steps and hurdles to make the change. Together, we will investigate what this requires of various stakeholders, both within institutions, the market, the government, and SURF.

 
20
Raymond L. Chandra

MyScore - Avatar based teaching and learning

Presentation | Presentation of the avatar based teaching and learning software MyScore. MyScore is an Open Source and Open Educational Resources virtual reality software aiming to provide lecturers and students with new beneficial ways of teaching and communicating. Through the use of virtual reality MyScore delivers a remote teaching alternative with an increased sense of immersion and connection, while being able to show subject matter in ways impossible via in-attend-meetings.

 
20
Laurie Delnoij

Online self-assessment for informed study decisions: design for impact

Presentation | This session provides a model for designing and evaluating a self-assessment for informed study decisions in (online) higher education. Such instruments are deployed at many institutions, but the design and validation process quite often remains obscure. For researchers, policymakers, and study advisors in (online) higher education this session highlights the need for such self-assessments, addresses specific design decisions and clarifies the impact on prospective students' study decision-making.
---
Keynotes day 2
Opening day 2: keynote by Dirk Van Damme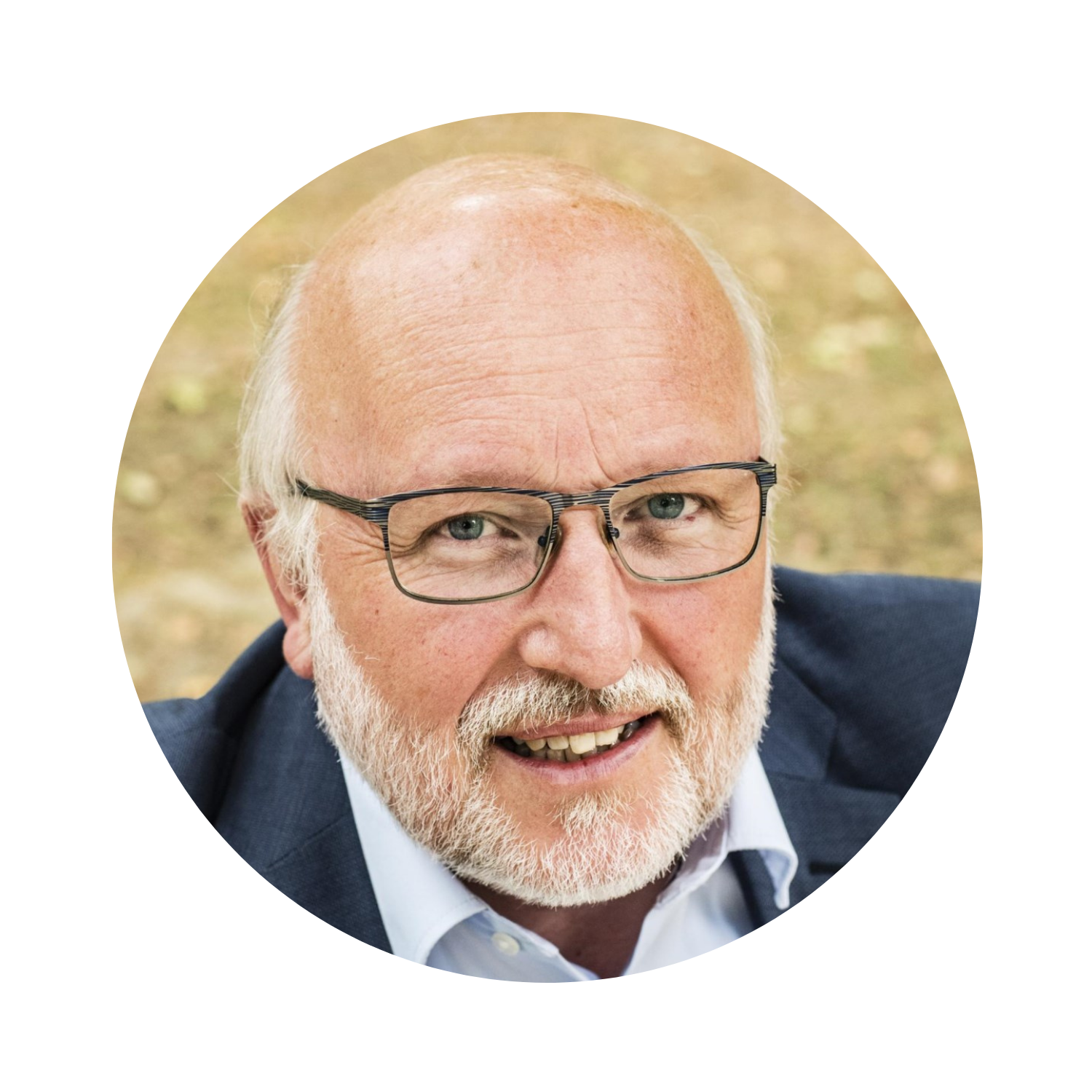 Belgian pedagogue Dirk Van Damme (PhD, Ghent University) will open Day 2 of EPIC with a keynote. Dirk is owner and president of DVD EduConsult and Senior Research Fellow at the Center for Curriculum Redesign in Boston, MA, USA.
Dirk has published extensively on educational quality assurance and evaluation. His current interests are the science of learning, comparative analysis of education systems, lifelong learning and higher education policy and evaluation. He also leads work on the assessment of learning outcomes in higher education.
 
Closing day 2: Keynote by Roger Dassen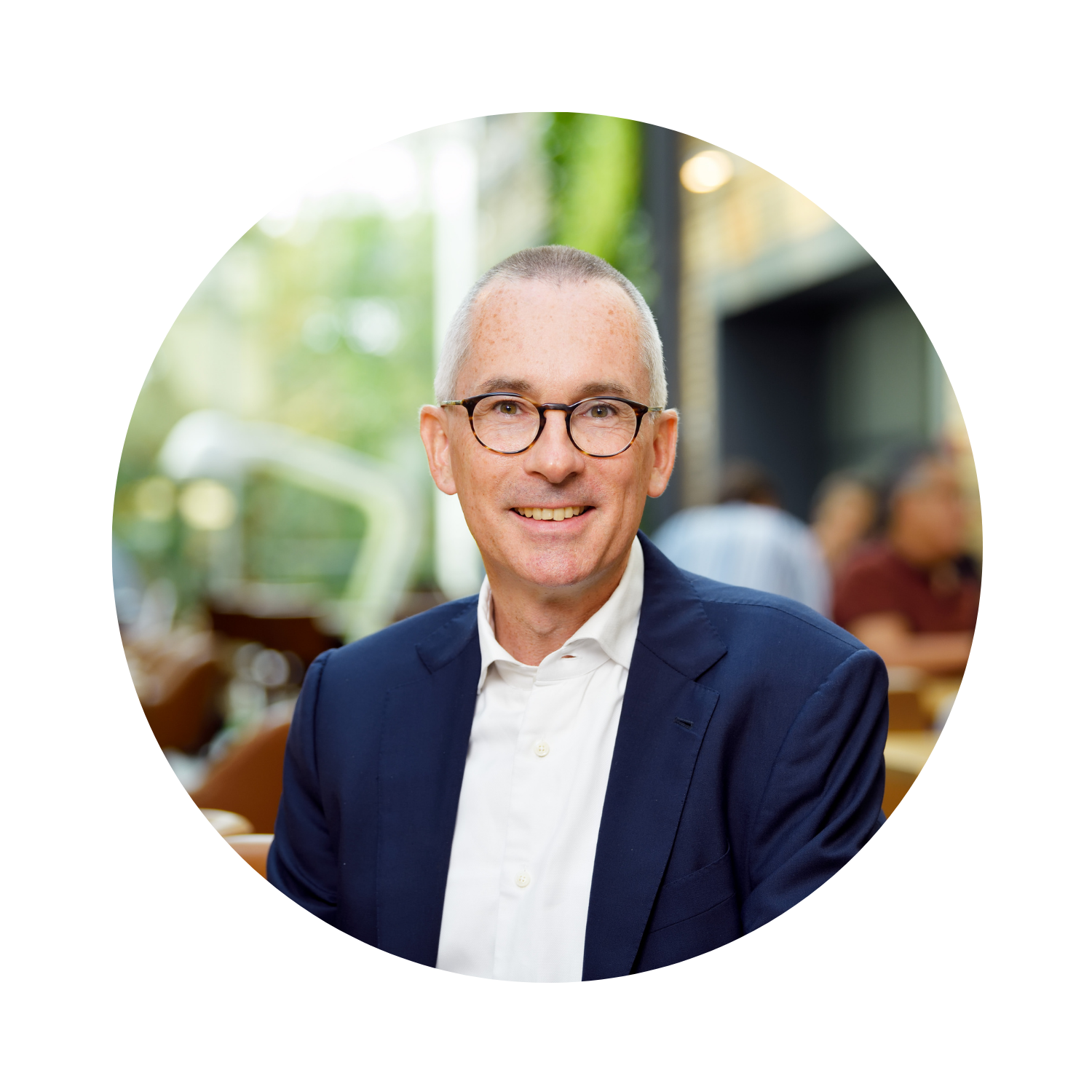 CFO of ASML, Roger Dassen, will provide the closing remarks for Day 2 of EPIC. Roger joined ASML in 2018 from Deloitte Touche Tohmatsu Limited where he held several roles. He has a Master's degree in Economics and Business Administration (1988), a Post-Master in Auditing (1990) as well as a PhD in Business and Economics (1995) from the University of Maastricht.
Chair of the Supervisory Board of the Maastricht University Medical Center+ (current)
Professor of Auditing at the Free University of Amsterdam (current)
Member of the Supervisory Board of the Dutch National Bank (current)
Global Vice-Chair and member of the Executive Board of Deloitte Touche Tohmatsu, Ltd. (2012–2018)
CEO of Deloitte Holding BV (2005–2012)
Audit Partner at Deloitte Netherlands (1996–2018)
EPIC | Educational Pioneers and Innovators Conference 2022
Registration website for EPIC | Educational Pioneers and Innovators Conference 2022
EPIC | Educational Pioneers and Innovators Conference 2022events@smith-communicatie.nl
EPIC | Educational Pioneers and Innovators Conference 2022events@smith-communicatie.nlhttps://www.epic-conference.nl/epic
2022-05-30
2022-06-01
OfflineEventAttendanceMode
EventScheduled
EPIC | Educational Pioneers and Innovators Conference 2022EPIC | Educational Pioneers and Innovators Conference 20220.00EUROnlineOnly2019-01-01T00:00:00Z
Van Nelle Fabriek Van Nelle Fabriek Van Nelleweg 1 3044 BC Rotterdam Netherlands