PROGRAMME DAY 1 - 30 MAY
Here you find the programme of day 1 of EPIC. For more information on the subsessions and keynotes, please scroll down.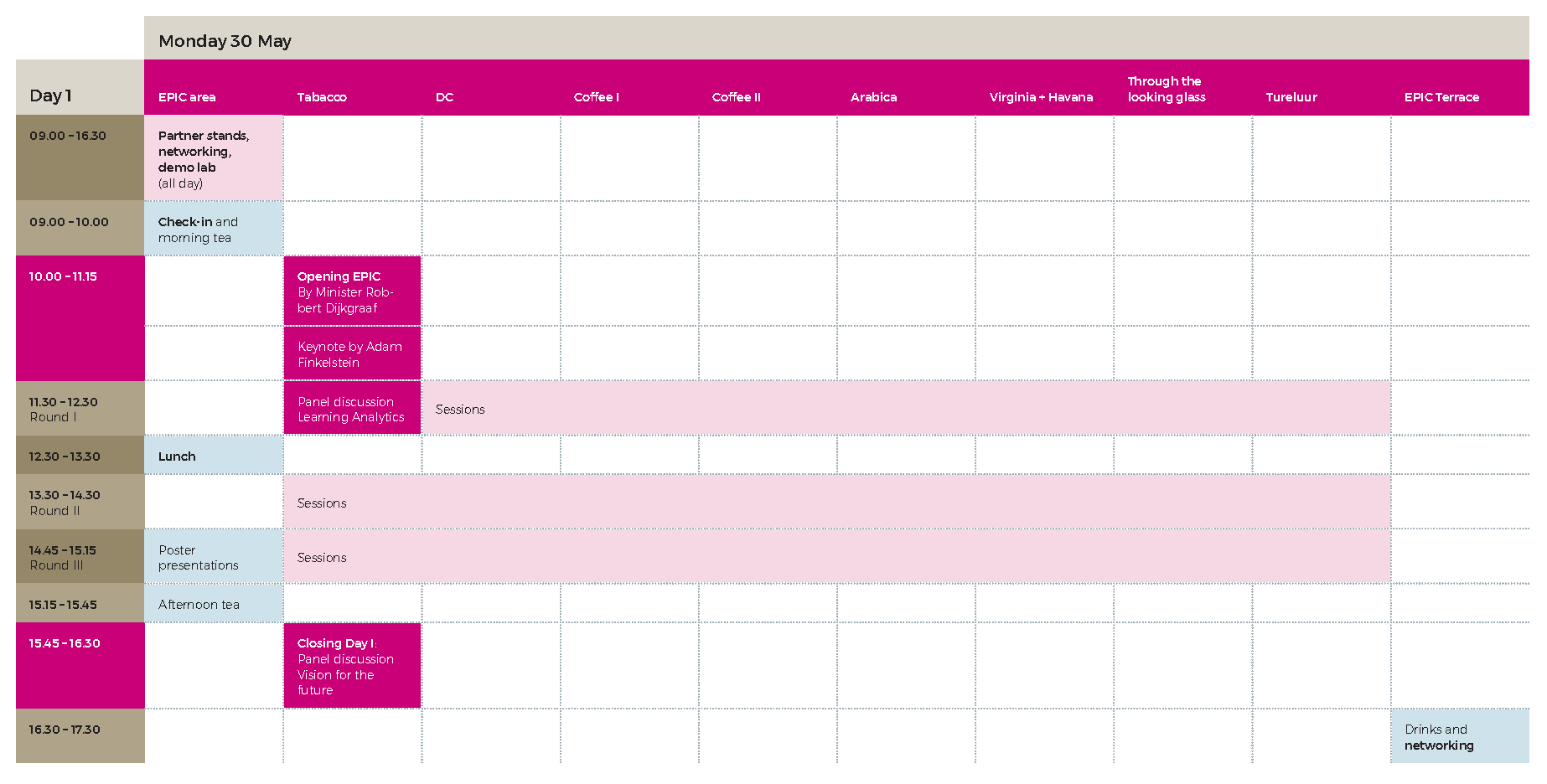 ---
Sessions Round I
11.30 - 12.30
Location
Time (min) 
Presenter(s)           
Session

Tobacco

Livestream

60
Marcal Brosens,
Bram Enning &
Dominique Campman

Privacy and ethical conundrums in the use of education data

Panel discussion | With Miek Krol (UvA), Nol van Gerven (LSVb) and Robert Voogdgeert (Leiden University of Applied Sciences).

DC

Livestream

20
Nicole Will &
Michiel de Jong (Acceleration Plan)

Odyssey of an OER policy: from development to implementation

Presentation | What is needed to ensure the application of an OER policy? Learn how the policy is a means to support existing practices, get an overview of success points and points of attention.

 
20
Ria Jacobi &
Michiel de Jong

Enhancing student engagement through Open Pedagogy

Presentation | Open Pedagogy is an extensive framework for using 'openness' in education so that everyone in the world has access to high quality educational experiences and resources, in order to increase inclusivity, remove borders and share knowledge.
Ria and Michiel discuss how to stimulate engagement of students through creating and sharing knowledge and how to create an inclusive learning environment through Open Pedagogy.

 
20
Antoine van den Beemt &
Saskia Stollman

Instruction and assessment design framework for MOOCs in STEM education

Presentation | Online education benefits from a systematic and evidence-informed approach to instructional and assessment design. An instructional and assessment design framework (IADF) is presented. Although the IADF is particularly developed for designing and evaluating MOOCs in the field of STEM education, it also has value for other online learning environments and subject areas.

Coffee I

Livestream

20
Patricia Mangeol & Boaz Beeri

Netflix for Learning? Using Video and Interactivity for Student Engagement

Presentation | What can we learn from Netflix? The session will present the design and implementation of a digital learning tool that draws inspiration from on-demand video platforms to promote engagement in formal and informal learning. Led by a university think tank and small private sector media and technology agency in Canada, this project provides an example of multidisciplinary collaboration resulting in an innovative learning tool and a new way of conceptualizing the use of video and other media as part of online or hybrid learning environments.

 
20
Jan Bleyen &
Tom Segers

Thomas More's hybrid classrooms: from emergency backup to 'advanced hybrid' 

Presentation | The presenters provide an overview of the evolution of hybrid classrooms at Thomas More, up to the 'Pro Hybrid' and 'Advanced Hybrid' rooms they offer at the moment. Rather than focusing on technicalities, they zoom in on how the lessons learned in user experience and didactic use have allowed them to establish better hybrid teaching and learning environments.

 
20
Jodi Nelson-Tabor & Lindsay Keith

AGILE in the UNREAL Classroom - virtual production workflows in academia

Presentation | If you're coming from academia and have ever felt baffled by the jargon employed by the software industry, this session is for you - not only will you come away from it understanding the lexicon and demystifying the process, but you will also be well on your way to establishing working processes in your own classrooms that will allow you and your students to achieve more in less time than ever before.

Coffee II
20
Maaike van Buul

Flexibility: the need to widen the discussion to professional learners

Presentation | Get to know some of the key trends taking place today that have pushed the need for lifelong learning to the forefront. This discussion will highlight the significance of flexible education not only for current students but also for the professional and lifelong learner at large. It will outline the challenges that are being faced by a public university in the Netherlands in making education more flexible and what steps to take to offer lifelong learning whilst strategically embedding it within the organisation.

 
20
Luuk Buunk

The implementation of micro-credentials in an inter-university context

Facilitated discussion | Staff of the University of Twente will briefly share their lessons learned from the current pilots in the context of the ECIU on, amongst others, quality assurance, the issuing and verifying process, the policy perspective and the student perspective. The discussion will then kick off on thematic tables along the lines of the beforementioned aspects of micro-credentialling.

 
20
Aukje Leufkens

Paving the way for edubadges: from pilots to a university policy

Presentation | Lessons learned from and experiences with experimenting with edubadges and micro credentials and implementing a policy on edubadges at Tilburg University.

Arabica
30
Jan Willem Grijpma & Marijke Leijdekkers

Bootcamp Active Blended Learning

Presentation | Get inspired by the findings of a boot camp the presenters organised to help lecturers (re-)design their courses to be more Active and Blended.

 
30
Peter Dekker, Aart Schouten & 

Kristin Webb

Critical Factors for Institution-wide Implementing Blended Learning at AUAS

Open Format | An understanding of how an institution-wide implementation programme can be set up and develop ideas on different ways to do so.

Virginia + Havana
60
Martijn Ouwehand & 

Loes van Hove

Open Interactive Book: Linear Algebra for Engineers

Facilitated discussion | Higher quality, flexible and interactive open textbooks for lower costs, available and accessible to all and always up to date. It sounds like a dream, doesn't it? We started making this dream reality but soon realized reality provides its own challenges, especially during covid times. Participate in our session to learn about our approach and experiences writing an open book about linear algebra for engineers.

Through the looking glass
30
Justine Griffin (Lexis Nexis)

Making Data Accessible: data solutions for the 21st Century Lexis Nexis

Open Format | For many librarians, students, and educators the world of data remains complex, even intimidating. For that reason, we created Nexis® Data Lab. Data Lab offers a user-friendly and intuitive interface to perform data analysis for beginners and advanced users.  In this session, we share our journey in the development of Nexis Data Lab.

 
30

Corneel den Hartogh (Acceleration Plan)

From SIS to data-driven insights: Education analytics at scale

Presentation | VU Analytics presents a best practice for the use of education data at scale. In this session, we will explain what is needed to provide decision-makers quickly with reliable data-driven insights.

Tureluur
30
Jeroen Overmars (Senz Interim)

Confidentiality, Integrity and Availablilty: The three pillars of ISO27001 as guidelines to get holistic management information from data of the entire educational logistics process

Presentation | In the session Senz Interim will discuss the advantages and disadvantages of linking data from different systems from the perspective of Confidentiality, Integrity and Availablilty. We provide methods to answer questions within educational logistics by linking data in a safe and reliable way.

 
30
Linda Lieferink & Anja Imhof-van Rossum

Designing an information structure for flexible education

Presentation | This session inspires you to rethink how a vision of flexible education can become more concrete. We will guide you through our design journey to come from abstract visions to concrete information structures that are able to facilitate multiple forms of flexible education.
---
Sessions Round II
13.30 - 14.30
Location
Time (min) 
Presenter(s)           
Session

Tobacco

Livestream

30
Duuk Baten & Bryan Cardenas Guevara

Get inspired, what could you do with artificial intelligence?

Presentation | Let yourself be inspired by the possibilities artificial intelligence offers education. In a showcase of cutting edge AI applications, we will set the stage for you to come up with ideas and experiments to take advantage of this technology. We bring the technology and the inspiration; you bring your domain knowledge to create the most promising applications.

 
30
Duuk Baten & John Walker (Acceleration Plan)

AI in Education: Innovations within the Classroom

Facilitated discussion | AI's are finding their way into classrooms in unexpected ways. This session will display an inventory of AI used in educational technologies and what AI shaped education looks like currently. Come discuss how students use AI-powered tools outside the classroom, to solve their homework problems, and use them even just for experimentation. Our Teachers, administrators, and policy-makers alike should know what AI-powered tools are coming, how they change educational practices and where to learn about them. Let's start the conversation here!

DC

Livestream

30

Sabine Uijl

Designing the flexible master programme of the future

Presentation | How can we create a new balance between knowledge, skills and attitude in academic programs, leading to flexibility and openness to offer the emerging topics to the students at the time they occur? This will be addressed in this presentation on developments of transdisciplinary education within the strategic alliance of the universities of Eindhoven, Wageningen and Utrecht.

 
30

Wilma Elston &
Grant Penny

A mind shift towards more flexible assessments: are we there yet?

Presentation | COVID-19 inevitably expedited the change to remote online assessments which posed new/more hindrances such as verification of students, illicit use of materials, fairness, data limitations and device availability. Assessment approaches and proctoring systems were explored; examples will be given such as The Invigilator. Rather than trying to control the assessment process, lecturers themselves had to shift their methodology by being more flexible with regard to assessments.

Coffee I

Livestream

30
Jeroen Jansz

CLI MicroLabs: flexible learning opportunities for teachers

Presentation | Jeroen will show you what MicroLabs are, how we develop them at Erasmus University Rotterdam, how it is part of our larger teacher development activities and how this connects to the overall mission to continuously drive educational innovation.

 
30

Suzanne Groothuijsen & Michelle Troxler

Teacher-led educational innovation with ICT: achievements and challenges

Presentation | TU/e employs a teacher-led, bottom-up strategy for educational innovation with ICT. The aim and structure of the program, achievements, and future challenges are presented.

Coffee II
60
Jessica Zweers & Olaf Wouters

Searching for a new balance between digital and non-digital education

Open Format | Many challenges lie ahead in post-pandemic education. How can we find a new balance between digital and non-digital education? How do we combine the best of both worlds and cherish the advantages of each whilst integrating the digital and nondigital elements in a functional and logical way for optimal learning experiences for many different types of students? In this session, we will interactively explore and debate these challenges.

Arabica
30
Rob Telfer (D2L)

The importance of personalization in digital education: top tips

Presentation | D2L will share top tips on how a digital learning environment can help personalize learning for students. Hear why this is key to student success.

 
30
Ellen Rusman & Rob Nadolski

Pe(e)rfectly Skilled: proficiently skilled

Presentation | Introduction to Pe(e)rfectly Skilled, an online (feedback and reflection) method for interactive and practice-based skills training, developed through design-based research. Designed, implemented and evaluated to support students' repeated practice of skills in a more effective, efficient and attractive way.

Virginia + Havana
30
Suzan van Brussel & Nardie Fanchamps

Sharing and unlocking good practices of "Educational innovation with ICT"

Facilitated discussion | Suzan and Nardie collect good practices, so that they can inspire teachers, for example, to innovate their teaching. By sharing good practices, professionals can see how colleagues have developed an innovation with the application of digital tools. In addition to collecting and screening good practices, it is very important to make them widely available to all educational professionals. In this interactive discussion, ideas are exchanged and we collect input to further enhance good practices.

 
30

Egbert Neels & Jerich Faddar

The student, lying in the staircase, wearing a VR headset | A hands-on mystery solving session about Evidence-informed practice in higher education

Facilitated discussion | Evidence-informed practice can be of great value for teachers and other people involved in change and innovation in higher education. Although good examples do exist, a lot of changes made in the teaching practice are based on gut-feeling and personal preferences. In this session we introduce our first iteration of a bottom-up and step-by-step approach for evidence-informed practice for education professionals who want to make grounded. changes to 'their' courses. To do so, we challenge you to join our session, and try to solve the mystery of the student, lying in the staircase, wearing a VR headset.

The step-by-step approach is a part of the future field labs developed by the zone Evidence informed educational innovation with ICT and the working group Digital education in practical skills. The full living lab will be available in October this year, but this session gives you a sneak preview of its contents.

 

Through the looking glass
30
Tom Konings (Acceleration Plan) & Justian Knobbout

A Quickscan to accelerate the use of study data

Workshop | The Quickscan Study Data is developed to gain insight in the maturity of an institution with regard to the use of study data. But how to take the next step? During this session, the presenters will show you how the QuickScan can be completed and which insights the scan can provide. Participants are then invited to share their experiences and advice with each other from which we will draw new ideas and motivation to improve the way we work with study data.

 
30
Heleen van der West

Combining student data and AI to support students' self-regulated learning.

Presentation | This session gives insight in how AI and student data can give actionable insights that will foster the self-regulating during learning. During the session you gain insights in how the self-regulated behavior of students is measured using AI, how these student data is translated and visualized in an student-facing dashboard, the iterative development process of the dashboard.

Tureluur
60

Frowine den Oudendammer & Annelies van der Graaf

A learning and research community in higher education: a good practice

Workshop | How can the use of evidence in educational development be increased and at the same time the sharing and use of teacher knowledge be stimulated? The search for an answer to this question led to the creation of a learning community for teachers in the author's institute in the Netherlands. During this workshop you learn what makes a learning community successful and which interventions can stimulate a positive result.
---
14.45 - 15.15
Location
Time (min) 
Presenter(s)           
Session
EPIC Area
60

Poster presentations

Skills development in learning environments at the school-work boundary
Amber Kornet

Innovative engineering labs: virtual, remote, hybrid and virtual reality
Suzanne Groothuijsen

An overview of privacy-preserving Machine Learning for learning analytics
Johannes Schleiss

An action research to a learning and research community in higher education
Frowine den Oudendammer

An integrated blended module of Academic Writing in a graduation course
Atefeh Aghaee

How Erasmus University Rotterdam boosts online education
Linda de Bont

CLI fellowships: Driving innovation with educational research
Marloes Nederhand

No escaping logic: teaching critical thinking online
Arie van der Lugt

Program-level Blended Learning practices analysis guided by EMBED model
Chiara Baldo

Using a Typology to Design Flexible Assessment for Blended Learning
Ya Ping Hsiao

Towards digital accessible course material
Gaby Lutgens

Blending support to accelerate the use and effect of blended learning
Ulrike Stam

Sustainability strategies for OER, sharing is caring!
Robert Schuwer & Leontien van Rossum

Flexibilisation: what does the student want?
Erik Bolhuis

Defining factors contributing to successful implementation of evidence-informed practice within 11 Dutch higher educational institutes
Vera de Vries & Bea Edlinger

What have we learned from Covid Teaching?
Martijn Ouwehand

Tobacco

Livestream

30
Ulrike Wild (Acceleration Plan)

Beyond programmes: an infrastructure for a lonely planet study approach'

 

Open Format |

How do Dutch universities facilitate student mobility across institutions by a new administrative infrastructure? How does this inspire innovative ideas for study paths? Participants will be provoked to think outside the box of traditional programme design and get ideas how students can be more in charge of their learning paths.

DC

Livestream

30
Eelco Braad

Playful Metacognitive Tools

Presentation | Metacognitive knowledge and metacognitive skills are at the heart of learning: they represent how learners think of their own learning process and how they attempt to improve the outcomes of that process. In this presentation we will discuss and demonstrate our playful approach and the tools we created and evaluated together with our students. You will walk away with insights as to what works, what does not work, and what you can do to make your students better learners – including a complementary card set.

Coffee I

Livestream

30
Annelies Raes & Marieke Pieters

Designing and investigating learning spaces from a learning lab perspective

Presentation | Learn how the concept of a "Learning Lab" can support both empirical research and good practices in higher education. More concretely, we will demonstrate how both at KU Leuven and at Université de Lille the learning lab concept has created the opportunity to co-design learning spaces from a design-based research perspective.

Coffee II
30
Barend Last (Acceleration Plan)

The kit for designing and implementing blended learning: A sneak preview

Workshop | Are you ready for a sneak preview at the everything in one open-source kit for designing and implementing that thing called blended learning? In this workshop participants will get a unique chance to get to know and try the 'Blended Learning Design and Implementation Kit' that is being created by the Dutch Acceleration Plan. The kit is meant to help implement and (re)design blended learning.

Arabica
30

Stéphanie Vanneste & Tim van Lier

Supporting TEamwork in AMbient learning Spaces (STEAMS) 

Workshop | In this session you get a demo of the developed new curriculum to teach collaborative problem solving (CPS) skills by doing CPS and of the main components within the STEAMS project: the group compositor (preparation), the group dashboard & virtual moderator (playout), and the experience dashboard (debriefing). This will be organized interactively by playing the "Road to Mars" game.

Virginia + Havana
30
Daan Hoeksema & Evan Groeneveld (Vancis)

Deliver any app to any device on and off campus to students off campus to students of educational institutions

Presentation | In this session, you get to know the Application Delivery Platform (ADP) from Managed service provider Vancis. Daan will address the challenges of delivering a wide variety of applications to different device types and demonstrates the use of application streaming and the use of centralized portal for delivery.

Through the looking glass
30
Leontien van Rossum & Robert Schuwer (Acceleration Plan)

How to level up your open educational practices? Take the quick scan!

Workshop | With the newly developed quickscan you get an idea on your institutions maturity level for open educational practices. The audience will get to know the (idea of the) quickscan, how to use it and provide us with valuable insights.

Tureluur
30
Manon van Zanten

Professional development: A framework for digital competences of teachers

Facilitated discussion | What competences for teaching and learning with ICT do teachers in higher education require while they implement ICT to increase the flexibility of education and adapt their courses to the needs of individual students? Or when they prepare students to live, learn and work in a digital society? The framework for digital competences of teachers describes these competences. During this session you'll learn about this framework and will have the opportunity to discuss ways to embed them in professional development programs.
---
Keynotes day 1
Opening by minister Dijkgraaf
Opening by the Dutch Minister for Education, Robbert Dijkgraaf, and Arthur Mol, Rector Magnificus of Wageningen University & Research. 
Keynote by Adam Finkelstein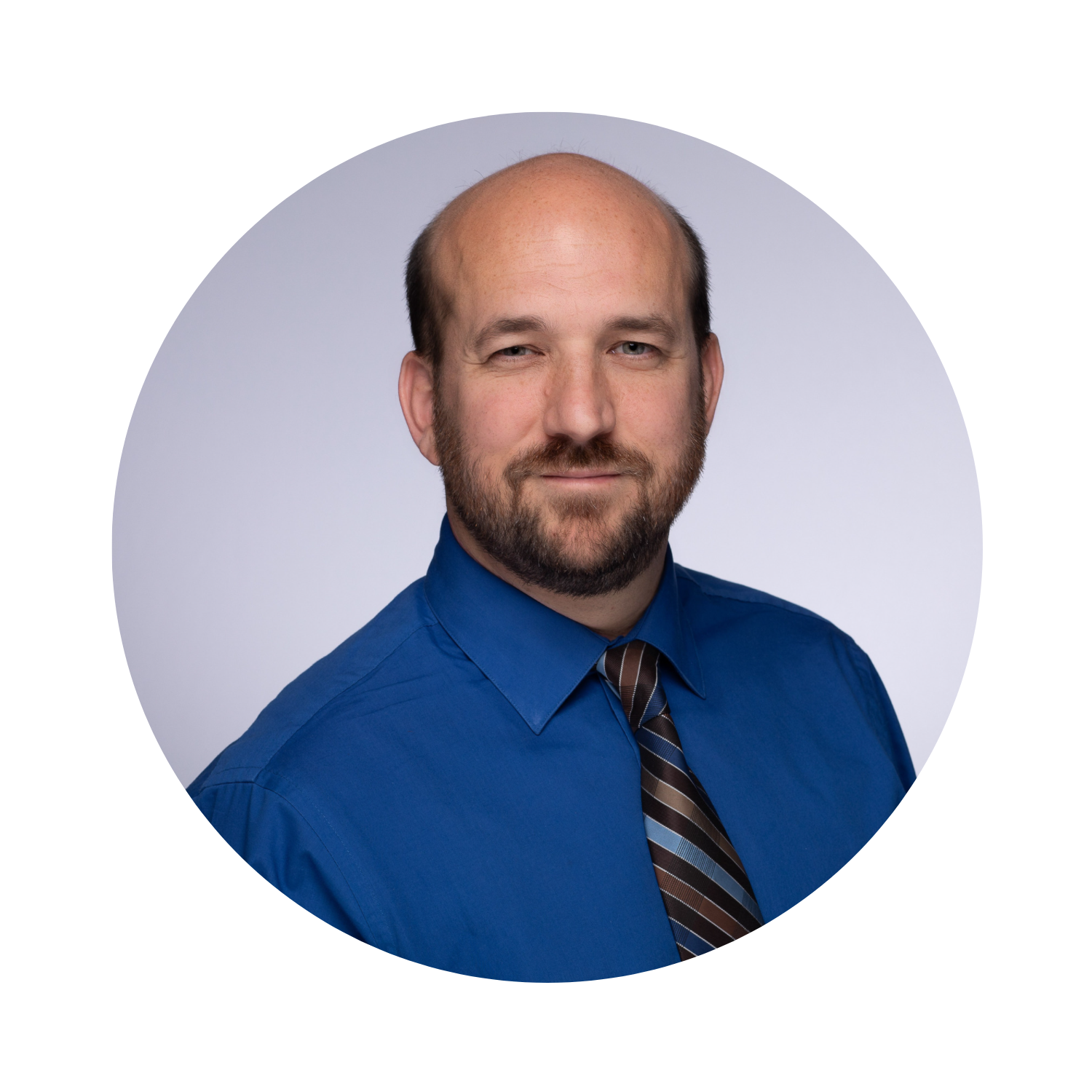 Adam Finkelstein is currently Associate Director, Learning Environments (Physical and Digital) at Teaching and Learning Services at McGill University where he develops university-wide initiatives to improve teaching and learning environments.
He and his team have worked with thousands of instructors to help them improve their teaching and learning with many faculty development initiatives, from active learning, to assessment, to inclusive space design. Adam will share his knowledge and vision on day 1 of EPIC.
Closing: Panel discussion on 'Vision for the future'
With Jet de Ranitz (CEO of SURF), Sarah Wilton (Executive Board Avans University of Applied Sciences), and Thomas van der Meer (board member ISO).
---
This is the preliminary programme and could still be subject to change.
EPIC | Educational Pioneers and Innovators Conference 2022
Registration website for EPIC | Educational Pioneers and Innovators Conference 2022
EPIC | Educational Pioneers and Innovators Conference 2022events@smith-communicatie.nl
EPIC | Educational Pioneers and Innovators Conference 2022events@smith-communicatie.nlhttps://www.epic-conference.nl/epic
2022-05-30
2022-06-01
OfflineEventAttendanceMode
EventScheduled
EPIC | Educational Pioneers and Innovators Conference 2022EPIC | Educational Pioneers and Innovators Conference 20220.00EUROnlineOnly2019-01-01T00:00:00Z
Van Nelle Fabriek Van Nelle Fabriek Van Nelleweg 1 3044 BC Rotterdam Netherlands